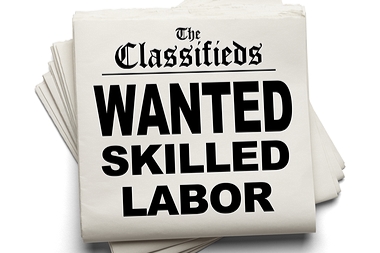 Nowadays, it's hard to miss the headlines trumpeting a troublesome labor shortage in such skilled trades as plumbing, HVAC and electrical work:
It's also not hard to identify some of the leading causes for this ongoing shortage of skilled workers in the trades. In addition to the fact that the Great Recession of 2008 forced many contractors out of business, other causes include:
The elimination of shop class in many U.S. high schools
Societal pressure for young people to choose college (and go into debt) over pursuing careers in the trades
Many trades contractors are family businesses, in which the next generation may not want to continue the tradition
Fortunately, as the saying goes: Behind every problem there is an opportunity. In this case, the shortage of skilled labor can be a potentially game-changing career opportunity for those willing to put in some work required to gain in-demand skills.
Skilled Labor Shortage Equals Career Opportunities
According the Bureau of Labor Statistics: "Employment of heating, air conditioning, and refrigeration mechanics and installers is projected to grow 21 percent from 2012 to 2022, faster than the average for all occupations."
The HVAC industry is in constant need of skilled workers, and technical training schools have a strong track record of grooming the next generation of technicians to secure stable, good-paying jobs.
Such training programs can also be a great way for even experienced technicians to stay current and keep pace with ever-changing technology. Schools like Bay State Tech also help you with lifetime job placement assistance.
Training opportunities can also help equip current and future technicians with additional tools needed in the workplace today. Superior skills and knowledge are essential, but the best techs must also be adept at the human aspect of the job — understanding the need to communicate clearly and effectively with each customer, from start to finish.
Companies Are Also Investing in Training
Facing an ongoing need to hire qualified technicians, many companies that specialize in the trades are also investing in training.
For example, Heritage PHCE (a plumbing, heating, cooling, electric contractor that serves New Hampshire and northern Massachusetts) has created an on-site training center at its headquarters in Auburn, NH.
To help address the labor shortage and expand the talent pool, Heritage has also established a trade school scholarship program — awarding two $3,000 scholarships each year to help students pursuing a career in the HVAC, plumbing and electrical trades pay for specialized training at institutions like Bay State School of Technology.
The shortage of skilled labor in key professions is an ongoing problem with far-reaching effects on our local and national economies. Providing technical and vocational training opportunities to help workers acquire in-demand skills (along with scholarship programs that support such efforts) will be an important part of the solution.